Q&A – BBC Football reporter John Southall
By Josh Hood
Radio 5 Live Football journalist and Hampton parent John Southall has enjoyed a prosperous career, covering the World Cup, Champions League finals and the Premier League.
At school, was your dream always to be a sports reporter? If so, who was your idol?
I'd always loved listening to sport (football in particular) on the radio from a young age and that inspired me to try and forge a career in the media. The radio offers you such a great opportunity to paint pictures with your words.
I also always wanted a career in sport and was lucky enough to find a pathway into radio (I studied a politics degree and then did a postgraduate course in broadcast journalism). I finally decided on radio when I did a week of work experience at the Times newspaper. I went with their reporter to Upton Park to watch a West Ham game and saw a broadcasting team doing commentary on the match and decided that was the job for me.
On the surface, sports reporting is a job full of glamour and attention but there are some big difficulties involved. Can you take me through some of the weekly issues that being a successful but pressured reporter poses?
Sports reporting and journalism is a great career but as with any job it throws up many challenges. Players and managers don't always want to be interviewed especially after a defeat so wording the questions in the right way is key. You must stay true to your principles and always ask the tough questions when sometimes it's not the easiest option.
Interviewing a manager when he's under pressure or facing the sack is always particularly difficult. The "monosyllabic" player/manager is another tough one, as you need plenty of questions up your sleeve ! Then you have the Jose Mourinho style manager when you never know what they're going to say, which is probably the most enjoyable and rewarding interview.
Has interviewing some of sport's most famous figures brought up any regrets during your career?
No, I don't have any regrets, but you can always look back on certain events and think: you could have done this or that differently, but I wouldn't say I have any regrets. I wish we'd had the opportunity to interview Sir Alex Ferguson more. He banned the BBC for a large part of his career and so for many years, we didn't speak to him.


What has been your most embarrassing moment?
I set a quiz last season on Five Live Sport on a Saturday afternoon with Mark Chapman. It was something along the lines of "how many brothers have played together in the same Premier League team". I had the answer down as four but as the afternoon went on it emerged there were many more and people weren't slow to tell me! Not my finest hour, but it was funny!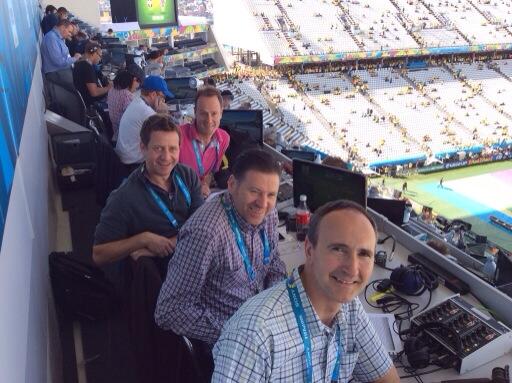 Which sports reporters do you look up to now?
There are many of my colleagues and current and former reporters who I admire but I don't want to make their egos too big so I'll keep it to myself! When I was growing up the likes of Des Lyman was a great presenter and when I was very young I used to listen to Peter Jones on the radio who was a brilliant football commentator.
Of all the sporting moments that you have reported on, which has been the most memorable?
I've been lucky to work at World Cups, European Championships, Champions League and of course Premier League games. I would say the most memorable and remarkable game I've ever seen was at the World Cup in Brazil in 2014. The game was in Belo Horizonte Brazil v Germany and it was the World Cup semi-final. There was so much hope and joy in the stadium before the game from the home crowd but Brazil capitulated in the game and I'm sure everyone remembers…
Germany won 7-1 and they could have scored 12. The home fans were shell shocked as were the players. We managed to speak to the Brazil players many hours after the game and to their credit they all turned up to face the music. There was a real sense of letting a whole nation down.
Can you take me through a typical big match day build up?
This is based on a Saturday 3pm game. I always like to get to the ground an hour and a half before I'm on air. The first job is to set up the broadcasting kit in the press box and check everything is working. That's normally followed by lunch in the press room (the most important job of the day !).
I generally do my prep for the game the day before which includes player stats, and interesting facts about each team. The first on-air commitment generally comes an hour before kick-off, when we get the team news, and for some games I may also do a manager/pundit interview any time after 12 o'clock.
After 2.30 I'll do a preview piece on the game and then after three, it's full on when the game starts. Generally, we'll do five or six updates per half, plus goal flashes when they go in. We aim to get the goal on the radio as soon as it happens, so it's all about reacting quickly and getting the goal-scorer right!
After my full-time report at 4.50, it's a very quick turnaround to get down to the tunnel and be in place to broadcast a considered report on the game on Sports Report. Then it's the challenge of getting live player and manager interviews on the radio.
Do you have any advice for up-and-coming young reporters?
My main advice is enjoy what you do and keep striving to improve. It can be a tough route into journalism so you need to be dedicated and determined and most importantly you must love what you're doing. Have a smile on your face.