Birth of the Barmy Army: Founder of cricket's biggest travel company speaks to HSC
By Josh Bartholomew, Editor |
If you've watched an England cricket match in the last 20 years, you'll have been watching the national team with a soundtrack of singing, trumpets and chanting supplied by the Barmy Army. What began as a small group of cricketing devotees has been transformed into a global brand and travel company with an accompanying trademark phrase.
At the forefront of this transformation has been the Barmy Army's founder, Paul Burnham OH (1982), who created the group in 1994. "My dad died in 1994 and left me a bit of money", he recalls.
"I decided to spend it on a tour to Australia to watch the 1994/95 Ashes. There were a lot of extra fans, as England hadn't qualified for the 1994 Football World Cup. As a consequence, there was a big group of people following the Ashes, watching England get thrashed by Australia."
A large group of Englishmen in a foreign country, struggling for entertainment? This, Burnham remembers, was a business opportunity in the making. "The Australian crowd – in those days in particular – were pretty rude and abrasive. We were much better than them, and we decided to sing songs back as a group."
This gathering of England fans was, though, just the start for the Barmy Army, which grew progressively into a worldwide travel company – the go-to for supporters looking to tour. But its development wasn't instant, and Burnham faced a difficult task to break into an already-crowded market, turning a leisurely pastime into a profession in the process.
It was a task which required patience: year after year and tour after tour of patient pragmatism was necessary to develop a sufficient base of support. "We transformed it from a small group of fans to a large company through time and word of mouth.
"We've created magazines, done offers with cricket companies – all sorts of things to try and build up that database of fans."
Despite the exotic settings, much of Burnham's early role as the Barmy Army's founder was unexpectedly authoritarian. Combine sun, singing, Brits abroad and – of course – alcohol, and you've got a fairly lethal concoction for rowdy behaviour.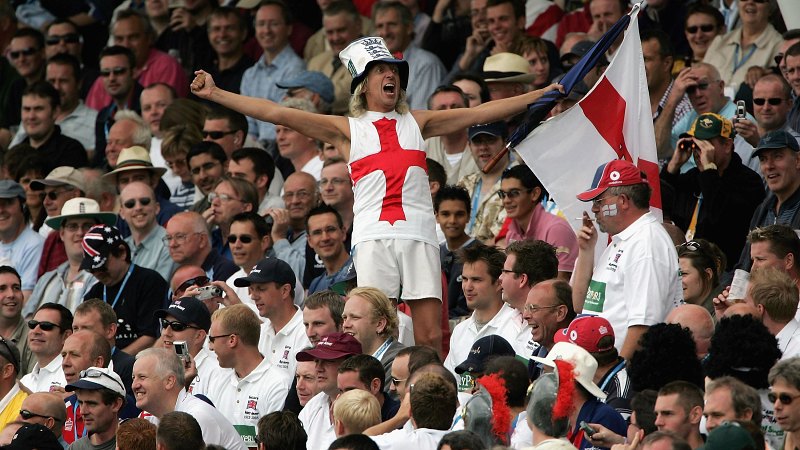 In order to maintain the Barmy Army's reputation, Burnham's job, therefore, became akin to a teacher, a policeman – to manage their behaviour and ensure it did not drift into something more often associated with football terraces.
"We self-police it – there's been plenty of yellow cards shown to people who've had a bad day," Burnham explains.
"But we're not going to kick people out just because they've said something stupid, we just make sure they're aware of it the next day. They've spent thousands of pounds to go abroad and they're representing their country with the Barmy Army, so you can normally talk some sense into them."
That being a member of the Barmy Army is now paralleled with representing the country speaks volumes of the company's expeditious rise into a powerhouse of the travel market.
But midway through the 2000s, the group ran into its stiffest challenge yet. Hoping to capitalise on the booming success of the 2005 Ashes in England, where football clubs were reportedly anxious that cricket's rising popularity would have an impact on attendances, the Barmy Army changed tack for the tour to Australia in 2006/07. "We took thousands of people out to the 06/07 Ashes tour, which Flintoff captained, but ultimately we chose the wrong travel partner. We made some bad decisions, and the travel company we used ended up going bust.
"We just wanted people to go out there and sit with us. Because the grounds in Australia are so big, it doesn't matter if you have 20% of the ground if you haven't got everyone sitting together. We had to package it, and people were saying: 'wait a minute, we could do it cheaper ourselves'. We made our profit margins too small, didn't make enough money, and it resulted in being a negative experience."
Four years later, and Australia was the venue of England's greatest overseas success in recent years – with the Barmy Army at the forefront of it. "After the terrible time in 06/07, the 2010/11 tour was the best time I've ever had in my life," Burnham recalls.
The Barmy Army dominated the Australian terraces, singing for hours on end as England – steered by Alastair Cook's extraordinary batting – won the Ashes away from home for the first time in 24 years. Australia were torn apart by England, with one fast bowler in particular feeling the pain of the Barmy Army's disparaging songbook.
"That was definitely a time when we had a positive effect on the team, especially with the Mitchell Johnson song. We didn't win the Ashes abroad ourselves, but we certainly helped. As the England players will always say, they love to see the Barmy Army in a large number supporting them as it gives them that little edge every now and then – it might give them an extra yard of pace, it might get a wicket."
Largely as a result of this series, the Barmy Army don't hold the greatest reputation amongst the Australian players and public. "The Australians hate it," Burnham admits. "The irony is that they've always regarded themselves as the greatest sledgers. What they weren't ready for, though, was a whole army of Brits ready to give it back. I've never got an issue when Mitchell Johnson or anyone else is upset."
Australians aren't alone in their disapproval of the Barmy Army – the British media often chastise the touring group. Two prominent British sports journalists – The Guardian's Jonathan Liew and The Times' Christopher Martin-Jenkins – have condemned the party in recent years, with the latter writing that "too often the Barmy Army have demeaned English cricket."
Burnham is quick to shoot down these suggestions. "We wouldn't do it if the players didn't think that it helped them every now and again," he insists. "My point to Liew and Martin-Jenkins is to say that it's for the players, and the Barmy Army give life to a 'dying' game.
"Hopefully people watching on TV when we're in South Africa and New Zealand recognise the atmosphere that we create. Without the Barmy Army, lots of grounds would be soulless."
The point Burnham raises about the impact the Barmy Army has on the international game is a salient one. England is one of the few countries which succeeds in filling its grounds during the Test match summer; for the other nations, thousands of rowdy Englishmen create an illuminating atmosphere where it would otherwise be modest.
Aside from the atmospheric influence on the universal game, cricket's global economy is vastly improved by the Barmy Army. Research conducted after the 2006/07 tour in Australia indicated that the touring party generated £133 million in direct expenditure, creating 793 jobs.
Yet for all the positive impacts of the Barmy Army, which has raised over £500,000 for 29 different charities, Burnham's role is not just a business one. He has devoted his professional career to the company, despite its limited turnover of under half-a-million each year.
Since founding the Barmy Army in 1994, Burnham has seldom missed a tour, but has now taken a backseat role in the running of the company. He still owns the business, but it's now run by three young professionals instead.
Burnham can now reflect on his – as yet unfinished – time with the Barmy Army. "Before the real problems happened on the 06/07 tour, we lost in Perth very early in the morning, and the Barmy Army kept singing until 5pm. All the stewards and the police were finding it very funny; that was amazing – it was real spirit.
"We support the team actively and unconditionally. We have some fun, using the British sense of humour, but that's not everybody's cup of tea; some people will watch cricket and they'll want to sit there quietly. That's fine, but the game will die if that's all you do."
As the English Cricket Board searches for ways to attract new players and supporters to the game, they could do worse than listening to the advice of a man who's seen and heard it all.
For more details surrounding Barmy Army membership options, visit https://barmyarmy.com/membership.